McLaren Performance Rally 2022
$3000.00 – $4000.00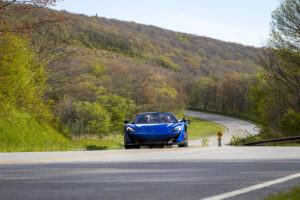 Come join us for the inaugural McLaren Performance Rally in the beautiful Smoky Mountains.
Meet other McLaren owners who are interested in driving their cars on some of the most amazing roads during the day, then chill out in the evening at 4.5-star resorts for good food, drink, and accommodation.
We will have a lead follow event through the Smoky Mountains on carefully curated routes that take advantage of McLaren's handling and power. All safely, of course, as we are on public roads.
Here are agenda highlights of the all-inclusive 2-day driving 3-night rally:
Thu, Aug 4: Welcome reception and dinner at the Auto Club in Asheville, NC
Thu, Aug 4: Accommodation at the Grand Bohemian Asheville, NC

Includes dedicated and secured car parking

Fri, Aug 5 and Sat, Aug 6: Accommodation at the Inn at Biltmore Estate

Includes dedicated and secured car parking

Sat, Aug 6: Morning exclusive photo shoot in front of the Biltmore House
Sat, Aug 6: Tour of the Biltmore Mansion late Saturday afternoon before dinner
Breakfasts Friday, Saturday and Sunday
Boxed lunches on Friday and Saturday
Dinners on Thursday, Friday and Saturday
All drinks included (yes, alcohol, too)
2-days photography, video, and drone footage